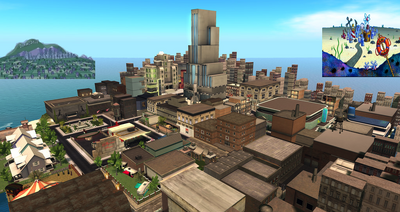 Nicktropolis is a town where all the Nicktoons lives.
List of residents
Edit
Mayor of Dimmsdale (Mayor of Nicktropolis)
SpongeBob SquarePants, Patrick Star, Sandy Cheeks, Squidward Tentacles, Mr. Krabs, Sheldon J. Plankton and Karen Plankton
Jimmy Neutron, Goddard, Sheen Estevez, Nesmith, Aseefa, Doppy, Carl Wheezer, Libby Folfax and Cindy Vortex
Timmy Turner, Cosmo and Wanda, Poof, Sparky, Mr. Turner, Mrs. Turner, Chester McBadbat, A.J., Sanjay Patel and Elmer
Invader Zim, Gir, Dib and Gaz
Tommy and Dil Pickles, Chuckie and Kimi Finster, Phil and Lil DeVille, Angelica Pickles, Susie Carmichael and their families.
Jenny "XJ-9" Wakeman, Nora Wakeman, Brad, Tuck, Sheldon Lee and The XJ-Sisters (XJ-1, XJ-2, XJ-3, XJ-4, XJ-5, XJ-6, XJ-7 and XJ-8)
CatDog characters
Rocket Power characters (Otto, )
Arnold, Grandpa, Gerald Johanssen, Helga G. Pataki, Stinky Peterson, Sidney, Rhonda Wellington Lloyd and Eugene Horowitz
Rocko, Heffer, Filburt Turtle and Spunky
The 2012 Teenage Mutant Ninja Turtles (Leonardo, Donatello, Raphael and Michelangelo), April O'Neil and Master Splinter
The Wild Thornberrys (Eliza, Darwin, Debby, Nigel, )
Catscratch characters (Mr. Blik, Gordon Quid, Waffle, Human Kimbley, )
Aang and his friends (eons ago)
The Legend of Korra characters (Korra, )
ChalkZone characters (Rudy, Penny, Snap, )
The PAW Patrol (Ryder, Marshall, )
Dora the Explorer characters (Dora, Boots, Benny the Bull, )
Josh and Parker (from Mr. Meaty)
???
???
List of locations
Edit
Bikini Bottom
Retroville
Dimsdale
Amity Park
Barnyard
The Wild Thronberry's Convee (always traveling around the city)
Northern Water Tribe
Southern Water Tribe
Fire Nation capital
Ba Sing Se
Northern air Temple
Eastern air temple
Southern Air Temple
Western Air Temple
Tuff Headquarters
Tommy Pickles' House
Chuckie Finster's House
Phil and Lil's House
Angelica's House
???? (Home of Jenny Wakeman)
Nicktropolis Police Department
ChalkZone
????
Nicktropolis Central Park
Nickelodeon/Nicktoons Studios
Town Hall
????